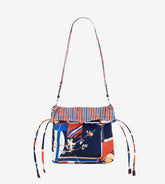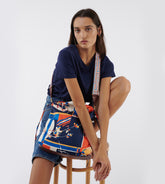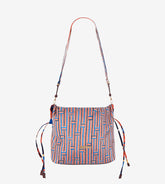 Details

Tote bag made of printed silk. Microfiber lining. Drawstring closure with silk laces and removable shoulder strap in contrasting print (shoulder strap length 93 cm). You can wear it in different ways thanks to the prints on the front and on the back. The bag is made less delicate thanks to the stain and anti-drop treatment performed on the fabric. Made in Italy.
Composition and Washing

Outside: 100% Silk Twill - Lining: 100% Polyester - Shoulder strap: 100% Silk Twill - Details: Leather. Dry clean. Do not iron. Do not tumble dry. Do not bleach. All our products are made from carefully selected, high-quality fabrics. Please use the cloth carefully and gently to ensure that it lasts longer.
Shipping and Returns

The products will be delivered within three working days from the order acceptance at the cost specified on the website. Delivery times may vary during the year. Returns can be made within 14 working days of product receipt.
Customer care
SKU:
20 -01190 000 23901 730 02