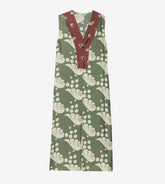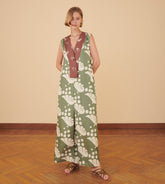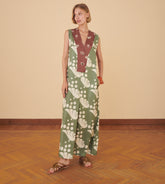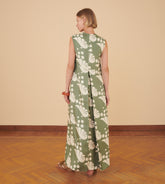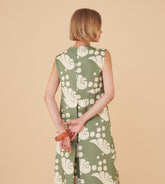 Details

Long sleeveless dress with an important stand-up V-neckline and lacquered jewelled buttons. Central cut with slit at the bottom and bottom-edge pleat. At the back, the bodice tapers slightly, lengthening the figure. The bottom-edge pleat gives softness and movement. Made in Italy. Model is 176 cm and wears size S.
Composition and Washing

100% Silk Twill. Dry clean or hand wash in cold water with a detergent for delicate cloths. Iron without steam and at a maximum temperature of 110°C with a light cotton cloth between the iron and the cloth. Do not tumble dry. Do not use bleach. All our products are made from carefully selected, high-quality fabrics. Please use the cloth carefully and gently to ensure that it lasts longer.
Shipping and Returns

The products will be delivered within three working days from the order acceptance at the cost specified on the website. Delivery times may vary during the year. Returns can be made within 14 working days of product receipt.
Customer care
SKU:
10 -01242 000 2770 759V 01 D40