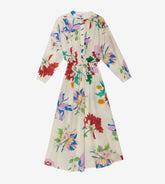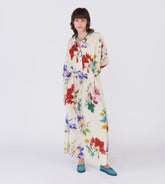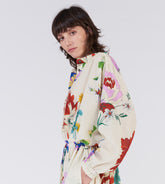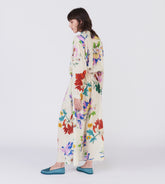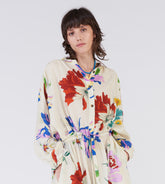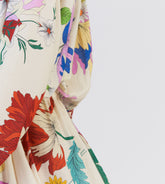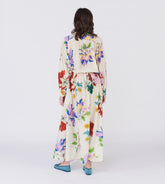 Details

Long caftan-style dress with a dropped shoulder, and oversize fit. Bodice with central opening with tortoiseshell buttons, soft ruffles on the shoulders, back carré and side pockets. Wide sleeve and cuff closure with a covered elastic band. The waist drawstring allows you to tighten the dress to your liking and creates a loose volume on the skirt. Made in Italy. Model is 175 cm and wears size S.
Composition and Washing

66% Cotton 34% Viscose. Dry clean or hand wash in cold water with a detergent for delicate cloths. Iron without steam and at a maximum temperature of 110°C with a light cotton cloth between the iron and the cloth. Do not tumble dry. Do not use bleach. All our products are made from carefully selected, high-quality fabrics. Please use the cloth carefully and gently to ensure that it lasts longer.
Shipping and Returns

The products will be delivered within three working days from the order acceptance at the cost specified on the website. Delivery times may vary during the year. Returns can be made within 14 working days of product receipt.
Customer care
SKU:
10 -01180 000 26616 760K 01 D42